CLICK HERE FOR A NEWER VERSION OF THE GUIDE
So I've noticed within the last year that plenty of people don't seem to get the concept of importing custom models into Garry's Mod through PAC.
This results in people using workshop models that only they have on their client, causing most other people to see ERROR's.
So this is a descriptive guide on how I import OBJ's and textures into PAC3 for everyone to see.
Before you read, here's a couple things you should not expect to be able to do with this method:
-
Import entire ragdolls and bonemerge them to your body.
When you convert a model to an OBJ, all the bones vanish. The reason you see some people like me using full on bodies is because I cut the models up limb by limb in a modeling program, and export each one, one at a time. I then spend time lining up each body part to every corresponding bone on my body. An example of this is the Canti PAC I have (The blue rusted robot with the Screen for a face). This is the method Bizzclaw was first using.
-Import models that have multiple textures.
As you know, you can only apply ONE texture to a model with PAC. A common example of this is importing a model that consists of metal and then glass. Usually the glass would be a different texture, so if you applied the metal texture, it would look really fucky. Again, you CAN do this flawlessly if you use a modeling program to cut up the polygons based on the material they're using, and export them each as their own model (Like cutting the windows out of a vehicle model).
So here's how you start (Green text is a URL you can click on):
STEP 1:
GET VTFEDIT
You use VTF Edit to convert textures/materials to JPG's. This is a must, or else your model won't have a texture.
STEP 2:
GET CRAFTY
Crafty is a multi-purpose program. In this case, you will be using it to open Model files for Garry's Mod, and turning them into OBJ's, which is EXTREMELY easy.
STEP 3:
GET GMAD EXTRACTOR
Use this program if you plan on using models and materials from your WORKSHOP addons. You don't need this if you find your models and materials elsewhere.
When you subscribe to a workshop addon, it will appear in your Addons folder as a .gma file. This is basically a .zip or .rar archive, except you need GMAD Extractor to extract it.
STEP 4 - GETTING MODELS AND MATERIALS FROM WORKSHOP ADDONS (SKIP IF YOU DON'T WANT A MODEL FROM A WORKSHOP ADDON:
Subscribe to the workshop addon you want so it downloads. In order for it to actually download, you need to launch Garry's Mod and let it stop locking up (It is downloading and unpacking the workshop addon).
At this point, you likely have a .gma file for it in your addons folder. Open GMAD Extractor and you should be greeted with this screen if everything worked properly: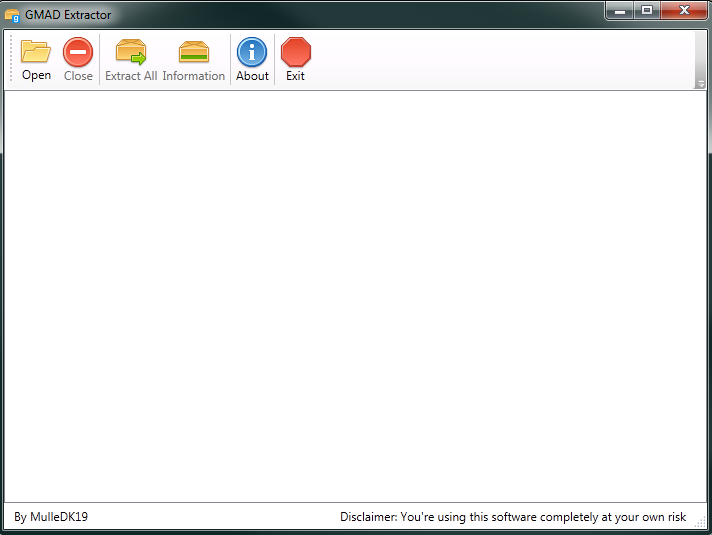 Next, click on OPEN. You should now be greeted with this screen: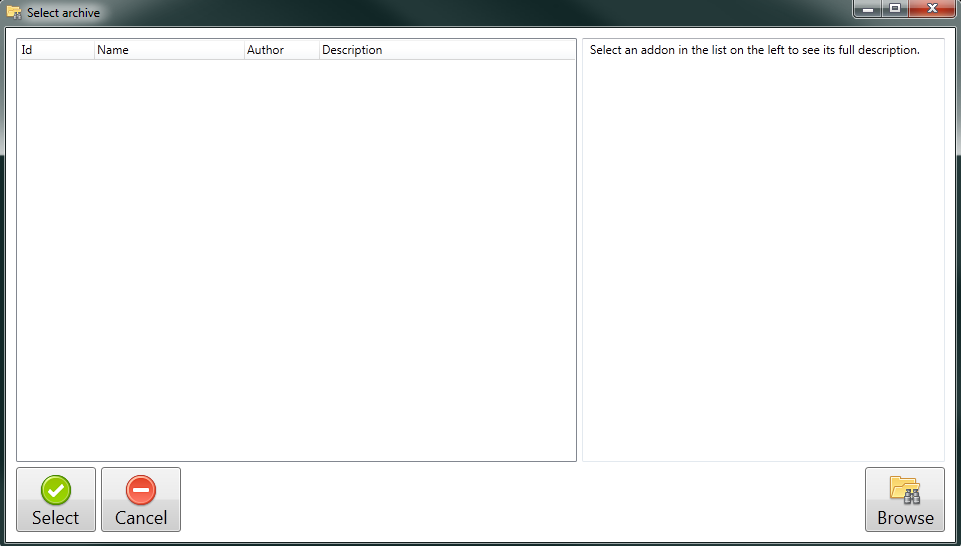 Next, click on Browse. A browsing window should now pop up. Navigate to your addons folder (Steam\steamapps\common\GarrysMod\garrysmod\addons NOT Steam\steamapps\USERNAME\GarrysMod\garrysmod\addons, and find the .gma file associated with the addon you want.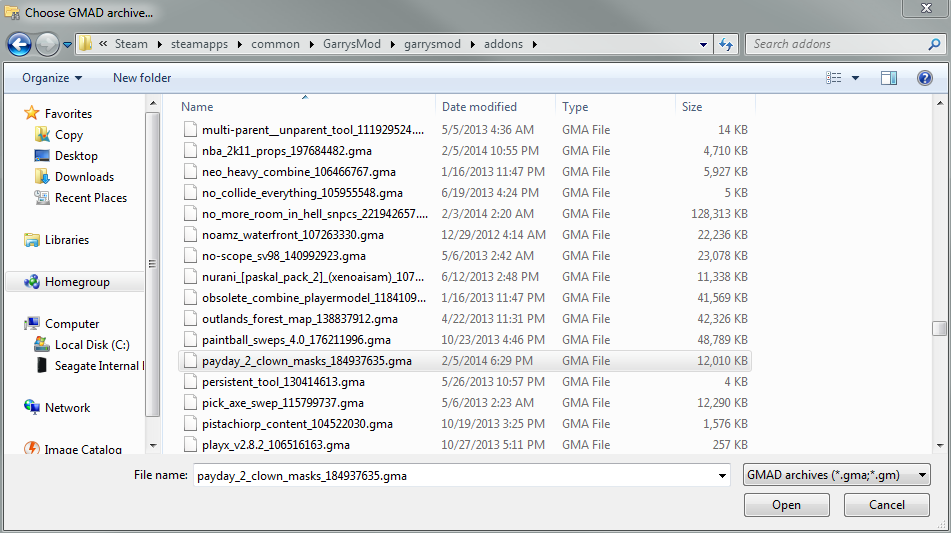 In this case, I subscribed to Payday2 Clown masks. I want to open it. So I find it in my addons folder, and double click it. So the GMA file should now appear in the extractor like this: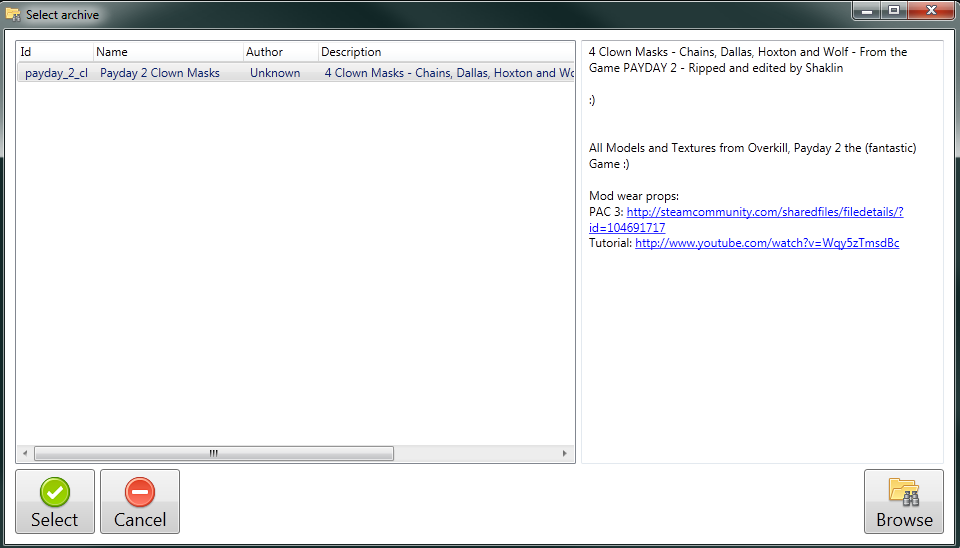 NOW. Double click on the listing you want, in this case, it's the Clown Masks. Or click on it once, and then hit SELECT. You should now be back at the main screen, but with this: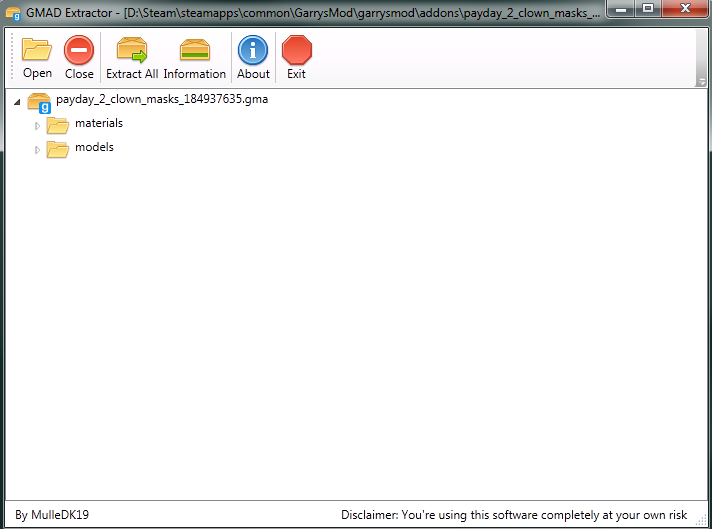 NOW. Click on EXTRACT ALL. Pick on any folder you want. In this case, I am going to make a folder called Payday 2 masks somewhere, and extract them there.
Now that this is done, navigate to where you extracted it to. This is everything that was inside that .gma file you extracted.
STEP 5- TURNING YOUR MODELS INTO OBJ'S AND TEXTURES/MATERIALS INTO JPG'S.:
Next. Find the model you want (If you were using Step 4, find where you extracted the model to). The name depends on who originally made the file. The names can be proper, or they can be completely random. In this case, I want Hoxton's mask:
You want to open the .mdl file. It should have a green icon over it like mine does in that screenshot, if it doesn't you want to right click it, and open with program -> Crafty.
Once you open the model with Crafty, it should look like this: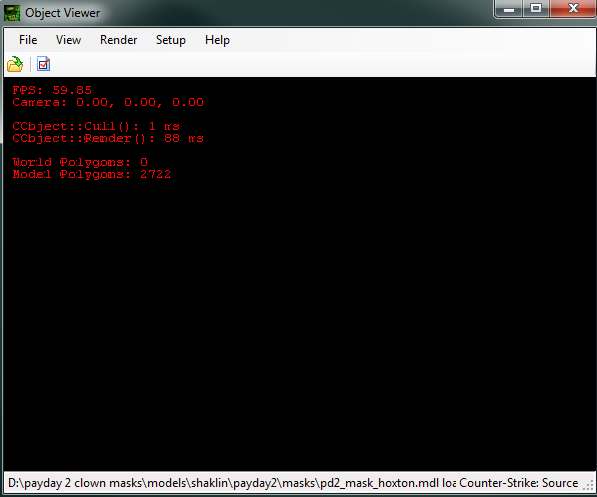 If you click and drag around and use WASD on the black box, it's like using the PAC camera. You can get a view of the model. Using this method, the model WILL NOT have any textures. So you will have to hope it's the right model. Next, you click on File -> Export. Choose where you want to export the model, and save the file type as an OBJ file. Name it whatever you want, in this case, I will name this Hoxton Mask.

Now you want to find the texture for your model. There is really no way of telling which texture is the one you want if the person who made the model didn't name it descriptively. Go to the materials folder of whatever directory your model is in/extracted workshop addon. In this case, my models were in payday 2 clown masks\models\shaklin\payday2\masks, and my textures are in payday 2 clown masks\materials\models\shaklin\payday2\masks.
I want Hoxton's mask material, so I will now open it in VTFEdit. You want to find a .vtf file to open the texture with. .vmt files contain extra info for the Source engine to tell it extra parameters to use with the model, and isn't completely necessary all the time.
*NOTE: SOMETIMES THERE WILL BE MULTIPLE TEXTURES LIKE YOU SEE HERE. IN THIS CASE, THESE ARE SPECULAR AND NORMAL MAP VERSIONS OF THE TEXTURES, AND THEY WILL LOOK VERY WEIRD AND MISCOLORED. OPEN ALL THE TEXTURES YOU HAVE UNTIL YOU GET ONE THAT YOU THINK LOOKS RIGHT. In my case, it was mask_hoxton.vtf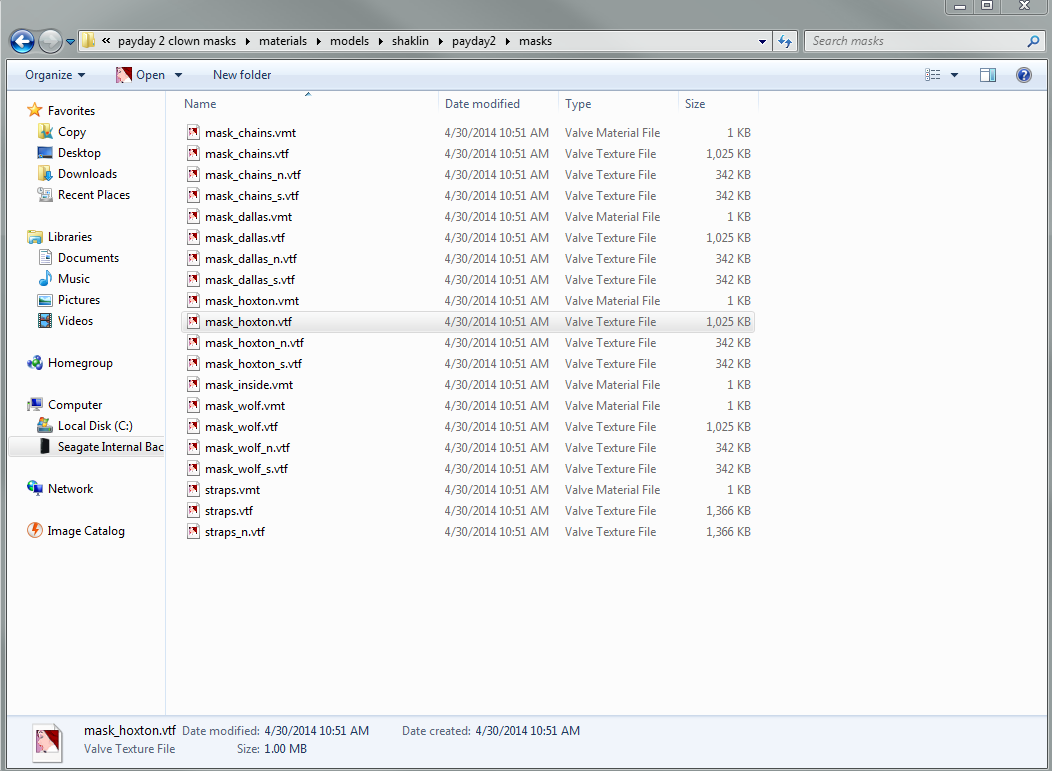 Here's what it looks like after I open it: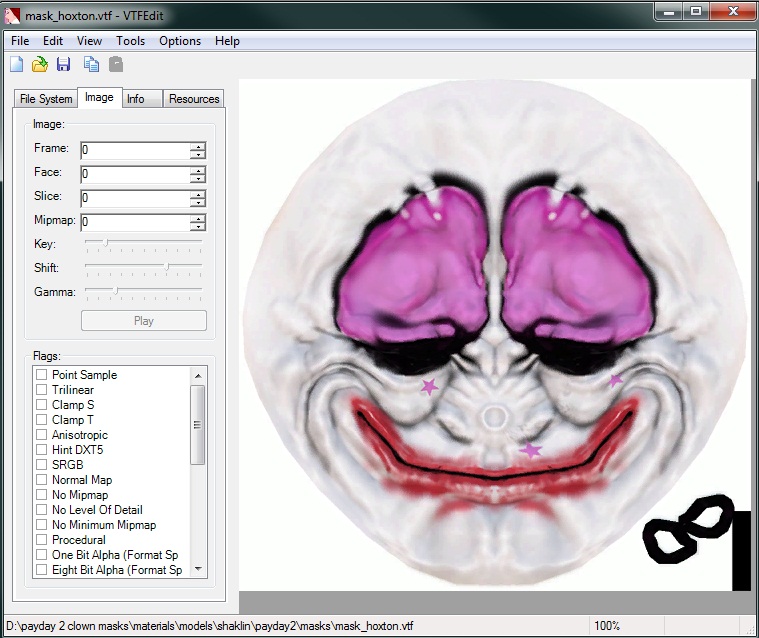 Now what you want to do is click File -> Export and choose where you want to export the texture/material to. In this case, I will put it in the same folder as the OBJ, and leave the name the same as what was already there. You want to save this as JPEG FILE.

STEP 6:
DROPBOX WORKS A LITTLE DIFFERENTLY NOW. THIS PART OF THE GUIDE MIGHT BE A LITTLE OUT DATED.
Now that you have your model and material/texture as an OBJ and JPEG file, you want to put these on a website so you can stream them in PAC. The thing almost everyone uses is Dropbox. Make a Dropbox account if you don't have one: https://www.dropbox.com. Next, you want to open Dropbox and make a new folder. Then you put the OBJ and JPEG in there. If you want to stay organized, like me, make a folder INSIDE the folder you just made. In this case, I am going to make a folder called Hoxton Mask. Now, when you're in the folder you want, upload the OBJ and the JPEG file to this folder.

Alright, so let's say you want to use the OBJ in PAC. Click on the listing for the OBJ you want in dropbox (In this case, Hoxton Mask) and click on

(THIS METHOD WILL BE DIFFERENT IF YOU HAVE AN OLD DROPBOX ACCOUNT THAT STILL HAS A PUBLIC FOLDER. YOU UPLOAD THE MODELS AND TEXTURES TO YOUR PUBLIC FOLDER AND YOU CLICK COPY PUBLIC LINK INSTEAD OF THE SHARE BUTTON)
A popup should now appear: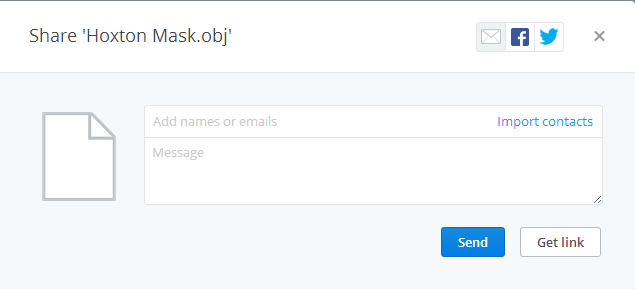 Click on GET LINK Go into PAC, make a model part, and paste that URL into the model field. Depending on how large the model is, it will eventually load up but you will notice it's missing textures.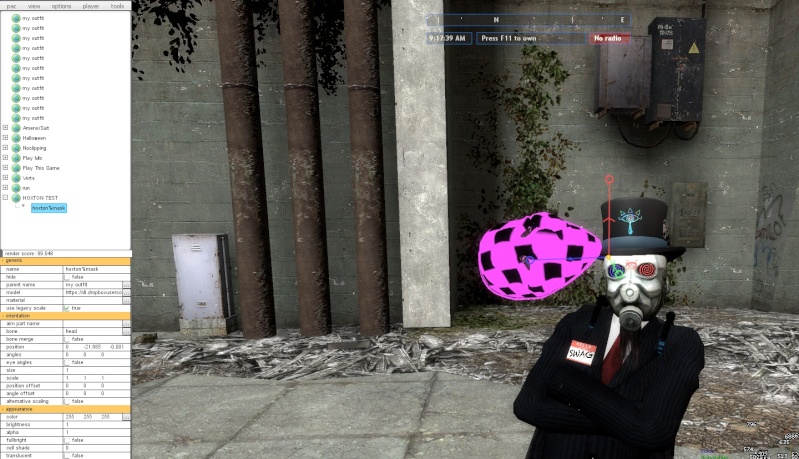 Go back to Dropbox, find the JPEG of the texture you wanted, Copy the Public link for that, go back to the model in PAC, and paste the texture URL in the Material field for that model. Give it a moment, and the texture should finally load up.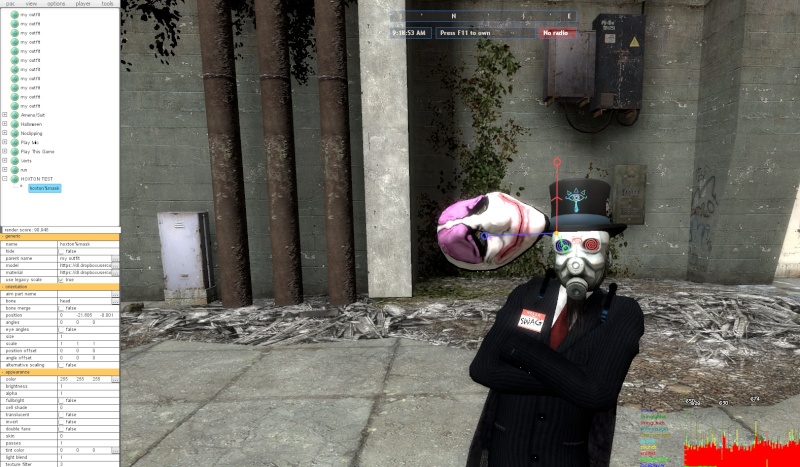 *After notes:
- If you apply the texture, and you notice it looks extremely blocky/pixelated, change the "Texture Filter" field on that model in PAC to 2. 2 will smooth out the texture and make it look nicer. Every other number does nothing.

-Sometimes a texture will load up completely black, or another player will say they see a black texture, while you or another say it's loading up fine. It's different for every player, and it happens a lot more often if the JPG isn't exactly 1024x1024 in size.

-If a model just simply doesn't show up, it's either too large, or it just won't work. Happened to me a couple times. (Try not use an OBJ larger than 5MB)
That's it for this guide. If you're having any problems with the programs, you should probably search somewhere else for help getting them started. If you need me to be more descriptive about something, I will add it to this post. I hope you understand this is the reason why people never answer you when you ask how to do this. It's a lengthy but easy process that just has too many steps to explain without a guide and proper knowledge.