When I logged into the server today, I walked down the hill from the Mojave outpost, only to be greeted by a briefcase, and a strange looking Gecko. I knew what Gecko's looked like, but this Gecko certainly looked odd. I then took out my Motra, and fired a shot it, I then realized what this kind of Gecko is, it is a Gecko that new players don't realize what they're fighting if they haven't fought it in Fallout 2 or Fallout: New Vegas, it is one Gecko that looks similar to the normal Gecko but in reality is it a beast against unsuspecting players. This Gecko has entered the wasteland along with a new breed of Gecko's, it is called...
a Fire Gecko
.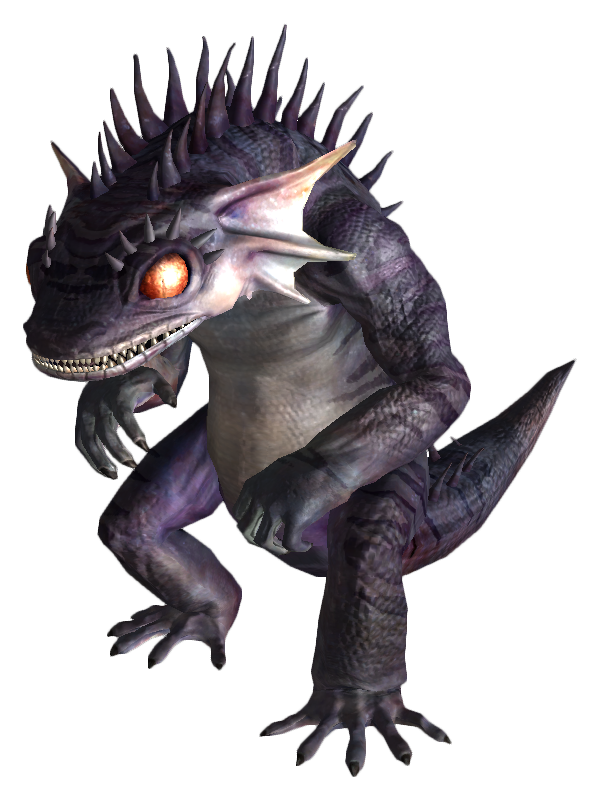 What is a Fire Gecko?
Fire Gecko's have the same behavior and same body structure as a normal Gecko, but this kind of Gecko breaths and shoots out fire at creatures, and humans, it is also has high resistance towards fire damage. The Fire Gecko is a medium-large sized Gecko with dark violet skin. Fire Gecko's are the second to deadliest Kind of Gecko's right after the Green Gecko. Fire Gecko's also have a bit more HP than a normal Gecko, and they can be very deadly in groups. The Fire Gecko's breathe fire due to their exposure to sulfur that is now held in their digestive system. Fire Gecko's also have large spikes that goes above their eyes, and to the top of their heads, all the way to the bottom back. Just as said earlier they have very high resistance to fire damage, and their skins are too rough and burnt to have any true value. These can be found in northern California, and the Mojave wasteland around mountainous areas.
How to Identify a Fire Gecko.
Fire Gecko's may look similar to a normal looking Gecko, but before you go straight into combat with a Gecko. Ask yourself these questions...
1). Does the skin look dark purple or dark violet?
2). Is it in combat right at the moment, and is it breathing fire?
3). Does it have spikes on it's eyes and on top of it's head all the way to it's lower back?
If you answered yes to any of these questions, there is a huge chance that the Gecko you were about to fight with just your melee weapon is none other than a Fire Gecko!
How to proceed to fight a Gecko.
There is one thing you always must remember about fighting Fire Gecko's, DO NOT FIGHT IT IN HAND TO HAND COMBAT! Fire Gecko's attacks at close range are very deadly and can take out a human with police armor within seconds! Instead here's what you should do...
Do: If you see and have identified a Fire Gecko, use a ranged weapon that can take out a Gecko in a matter of seconds.
Do: Stand back about a 4 cars length away from a fire Gecko, the more they're are, the more feet you should stay away.
Do: If you do see and identified a group of Fire Gecko's, stay very far away and use a sniper to take them out, make sure those shots count!
Do: If you feel like you can't win against a Fire Gecko before starting a fight with one, just avoid it and tell others where that Fire Gecko is.
Do: Wear high fire resistant armor before going up against a Fire Gecko.
Even if you have a large fire resistance you should NEVER, go into hand to hand combat with it, this is to make sure your survival chances of winning the fight are much higher than losing one and dying from it.
How can YOU help spread this PSA to the local wastelanders?
You can help by spreading around this link to the people of the wasteland, by reading this, they can be more prepared by identifying it and fighting against it!
You could also start by doing an important notice on walls, or start a Mojave Wasteland Building info which can help new wastelanders help their odds in surviving in the cruel wasteland!
You can also teach new players how to fight against them in the wasteland, showing them tips and tricks against these fire breathing demons!
We hope you learned a lot from this PSA, and if you wished to learn more, please follow these links at the bottom of this PSA to learn more, please remember to spread around this PSA so no one can die from these deadly Gecko's. Good luck out there and have a good hunt in the wasteland!
http://fallout.wikia.com/wiki/Gecko_(creature)
If the admins put this in a event, you're fucking screwed no matter what... (This is also a link)