Been formulating some ideas for a gamemode, after my 2 non-successful ideas from the past that never came to be. I wanted to pitch this gamemode here to see what people think of it, and contribute to it, and give ideas. If you do not know who I am, I used to be one of the Owners, left over a dispute, and now I'm back as a retiree, and I do not want to be an Owner again at this time. I thought of and gave Bizz a lot of input and ideas in the past, and was usually the backup guy when the server went down and he wasn't around, etc.
Possible gamemode names (currently): Light Ends, Dusk Settles, The Eventide.
This gamemode draws ideas from Stalker and Metro among other games.
Setting
Gamemode takes place after an event involving fog (for now I am calling it either The Eventide or The Rapture) takes place on Earth that causes humanity and animals to twist into demented creatures. The only ones that remained are the ones who survived this event, and those that are immune to whatever causes the disfiguring. Humanity now lives underground, saved by machines that process the fog into normal air, allowing them to breathe and live properly there. These machines however take massive amounts of power, and because of that, they are not portable.
Humanity developed specialized gas masks with filters that allow them to roam the surface, but only for short amounts of time. After The Eventide, other strange occurrences reminiscent of magic and other worldly objects have appeared above ground. Humanity is tasked with investigating these things and bringing them back to the underground where science teams can investigate them. These objects are called Relics or Artifacts, and are a culmination of the fogs energy condensed into physical objects. Humanity has another goal of trying to re-inhabit the surface, and wants to establish small settlements above as front line outposts for scavenging. Guns have also nearly seized to exist in the world that now exists, as the surviving human leaders outlawed them and had most destroyed, however, now that those leaders are long dead, humanity is searching for guns again.
Gameplay Mechanics:
-Postnuke will be used as a base, for the inventory system
-There may or may not be PVP on the surface
-It may use an upgraded version of Bizz's music system, which would also support ambient sounds. The surface will have deep winds, howling winds, and horrible noises, while buildings will have muffled winds. This will be handy for most maps as soundscapes on most maps are broken in Garry's Mod
-Gamemode will be largely Melee focused, with guns being a rarity
-Currency is acquired by looting on the surface, and a secondary currency is acquired by returning artifacts/relics to scientists. The secondary currency and artifacts you give to scientists will maybe advance ranks on you clientside that allow you to unlock and buy unique things from the scientists. I could use some ideas one what you could buy from the scientists
-The surface is always blanketed in twilight. I am thinking it will always be night/evening, and it will always be thunderstorming
-The surface fog is clientside, and you will be able to acquire upgrades to your gasmask/filters and increase the distance you can see
-To go on the surface, you will need filters for your gas mask you start out with. Maybe you will start with several filters. You can buy higher quality filters that last longer from a vendor. To stop rich people from buying tons of these and going to the surface for hours at a time without crafting a machine to live there, I am thinking there will be a Filter Pouch, which can only hold 3 filters at the start, and it can be upgraded to hold more, maybe for a max of 8. Maybe different gas mask models will also degrade filters slower. Higher models will be more efficient, etc.
-Artifacts will be rare random spawns that are dropped by certain enemies I'm thinking
-The gamemode is meant to be scary and unforgiving. The enemies can see you from 25 feet away while you can't see them. I am imagining them running and screeching out of the fog after you. Maybe you only go slightly faster than them, and can be outran by most of them. Avoiding them should be difficult to do, and traveling in groups might be more favorable
-Maybe there will be minigames or some way to make money in the underground for players to start out and buy gear
-Gear will be sold by NPCs in the underground, and possibly by players later on if they buy workbenches and tools. Machines and end game tools, such as machines that allow you to live in anti-fog bubbles on the surface, are craftable only with resources, tools, and currency.
-There will not be scrap, small parts, or chemicals, instead there will be physical items you have to find that contribute to raw resources used to craft things from an NPC, such as metal and wood and silicon.
-This is how scavenging would work: There will be randomly spawning containers in the world that typically spawn inside of buildings, and points of interest, rather than in the middle of nowhere. These containers will be much like fallout containers, except randomly appearing. There will be loot tables that specify what spawns in what model of container. For instance, a fridge is more likely to contain food, while a crate would have raw materials or ammo, or electronic device. You can open a container, and possibly find items of interest, transfer them to your inventory, and once the container is empty, it will vanish. Some containers may be locked and will need to be lockpicked.
-Elaborating more on the machines you can build with certain workbenches, to build the machines, you would have to combine a certain amount of steel with copper and various electronics you can find in containers, such as batteries, computers, fans, etc.
-I don't think there will be any vehicles. The surface world is a dark grim place that is frozen in time, and exploring it should be interesting on foot.
-As I said before, you will be able to buy or craft certain items that allow you to see farther when you're on the surface, which will help you see enemies farther away. Maybe the first item will be a lantern, which you have to hold actively, and then later you can get active items that you wear on your head or eyes.
-There will possibly be cultists on the surface, or normal humans that have been conditioned to the surface. They will spawn around certain camps and the camps will have locked containers with higher chances of containing rare items.
Enemies:
I am thinking the enemies will be using Cry of Fear NPCs among some other models, using a newer version of Bizz's Nextbot base. Maybe some Stalker enemies could be used, and models/animations from some other Source games.
Here is an example of SOME of the things you would see: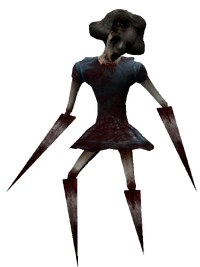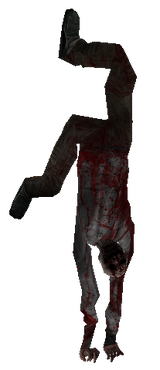 Dungeons:
Every map will have the same underground, a different overworld with various destroyed or useless buildings with junk. The main difference between the maps will be different "dungeons". Basically these will be linear maps I find and edit and merge into the main map. You will find an entrance of sorts on the surface that act as teleporters or gateways to the dungeon. Here's an example of a dungeon I would like to be in one of the maps, this dungeon would be called "Abandoned Shipping Warehouse":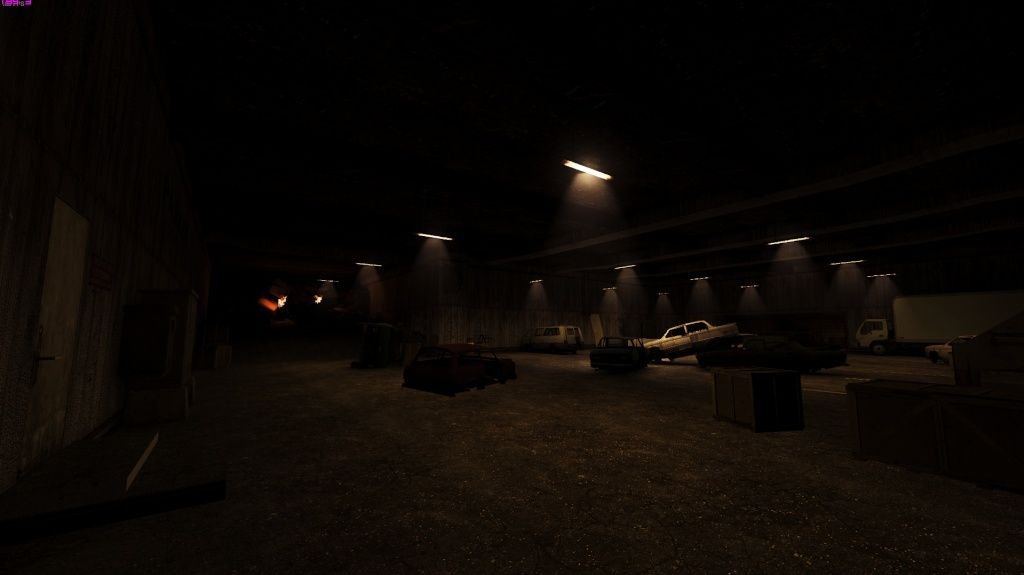 Dungeon Mechanics:
-This is all theoretical. This may not represent the final outcome.
-Thinking 2-4 dungeons per map
-Will be accessed via a teleporter
-When you are about to access a dungeon, it will let you know you're about to enter it
-Once you enter a dungeon, it will spawn a set of NPCs throughout the dungeon, along with loot containers, and a Boss at the end. Once the Boss is defeated, the dungeon is complete
-Everything you find in the dungeon will be temporary until you kill the boss and escape it
-You cannot leave a dungeon back the way you entered it, once you enter a dungeon, you must either complete, die, or disconnect
-After entering the dungeon, the front door will remain open for up to 1 minute. There will be a max of 4 players per dungeon, for a 4 player group. After the minute is up, the front is locked until the group/person inside complete it, die, or disconnect
-After a dungeon is completed, nobody else can access the dungeon again until a cooldown timer is completed. This will prevent people from farming/camping dungeons over and over again nonstop. The timer will probably be 10-15 minutes. There will be 3 dungeons on the map, so people can rotate around them if that's what they want to do.
-While you're in the dungeon, you will have a slower move speed. Combat is assured and forced. You will not be able to cheap out NPCs here (Hopefully). Move speed will also be lowered to increase the time it takes to complete the dungeon, so people don't simply run through it at fast speeds
-Since there will be no HL2 flashlights in this gamemode, there will likely be an item like a lantern you can attach to yourself that will illuminate a small area around you in orange or other various colors
-While you're in a dungeon, there will still be filter draining, but it will be slowed down. This will allow players to stay in dungeons longer, but still have an impending sense to of doom if they do not succeed and get out.
-Dungeons should take roughly 10-25 minutes to complete. If someone AFKs for more than 3 minutes, they will be kicked
-As said earlier, while NPCs spawn in the underground, there will also be loot containers. I'm thinking the boss will also drop an artifact for each player that participated and did a certain amount of damage to the boss. Because there will be containers, you will want to travel into the dungeon with a supply of lockpicks
-I would like there to be a limited amount of healing while in a dungeon. Maybe you can only carry so many medical supplies on your person at any time?
Dungeon Optimizations
-Nothing spawns until the entire dungeon sequence is initated. That way, there won't be NPCs constantly roaming around in the dungeons even if they're not being occupied.
-NPCs will halt all processing until they are close enough to a player or are in view. They will likely have a memory so they will continue to pursue if they were just in combat. This way, NPCs won't actually be doing anything until they are required to, and the memory will make it so a player can't walk around a corner to simply avoid combat by causing the NPC to stop functioning
Some more media:
Note: There likely won't be many instances of using guns in this gamemode.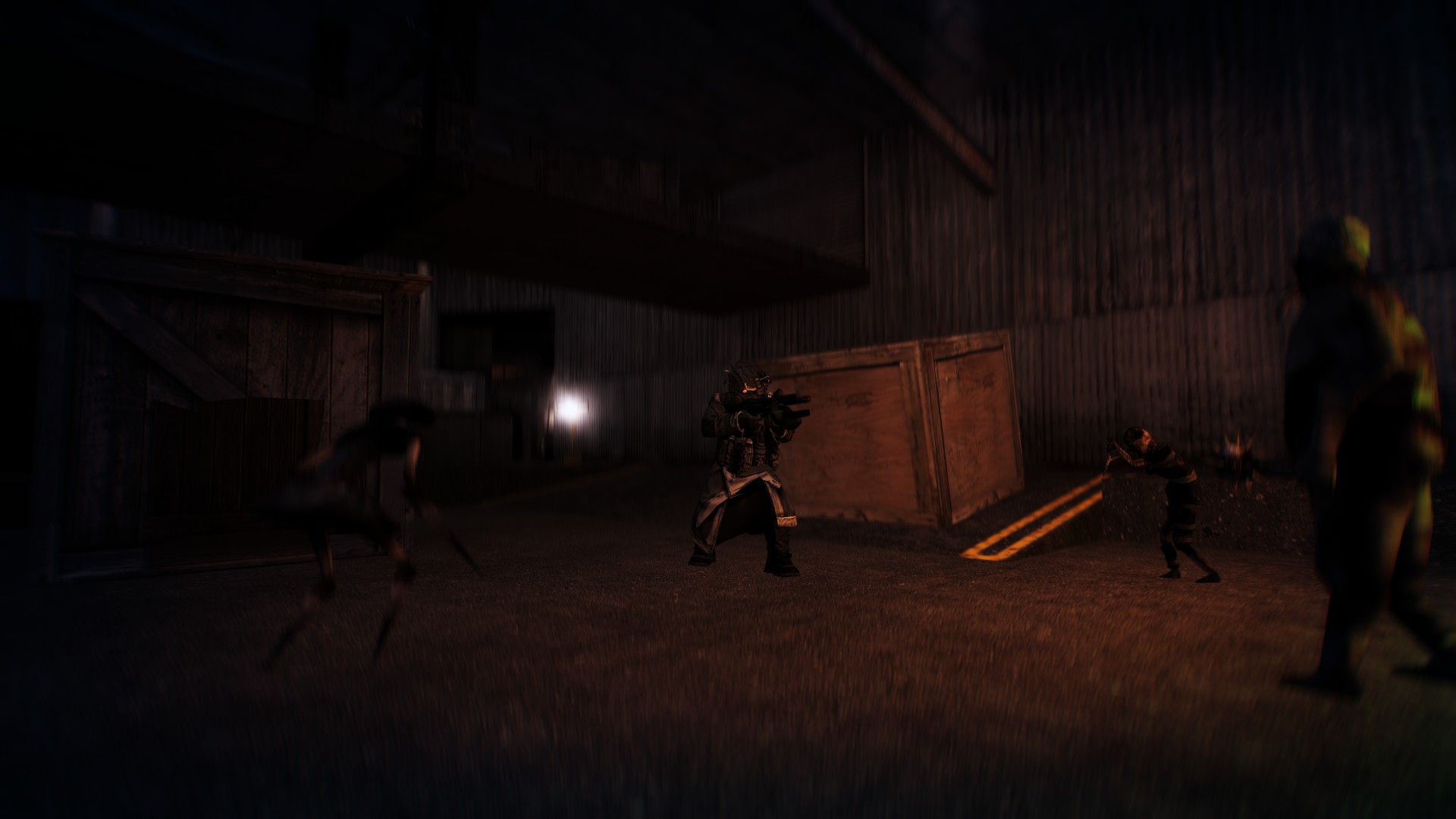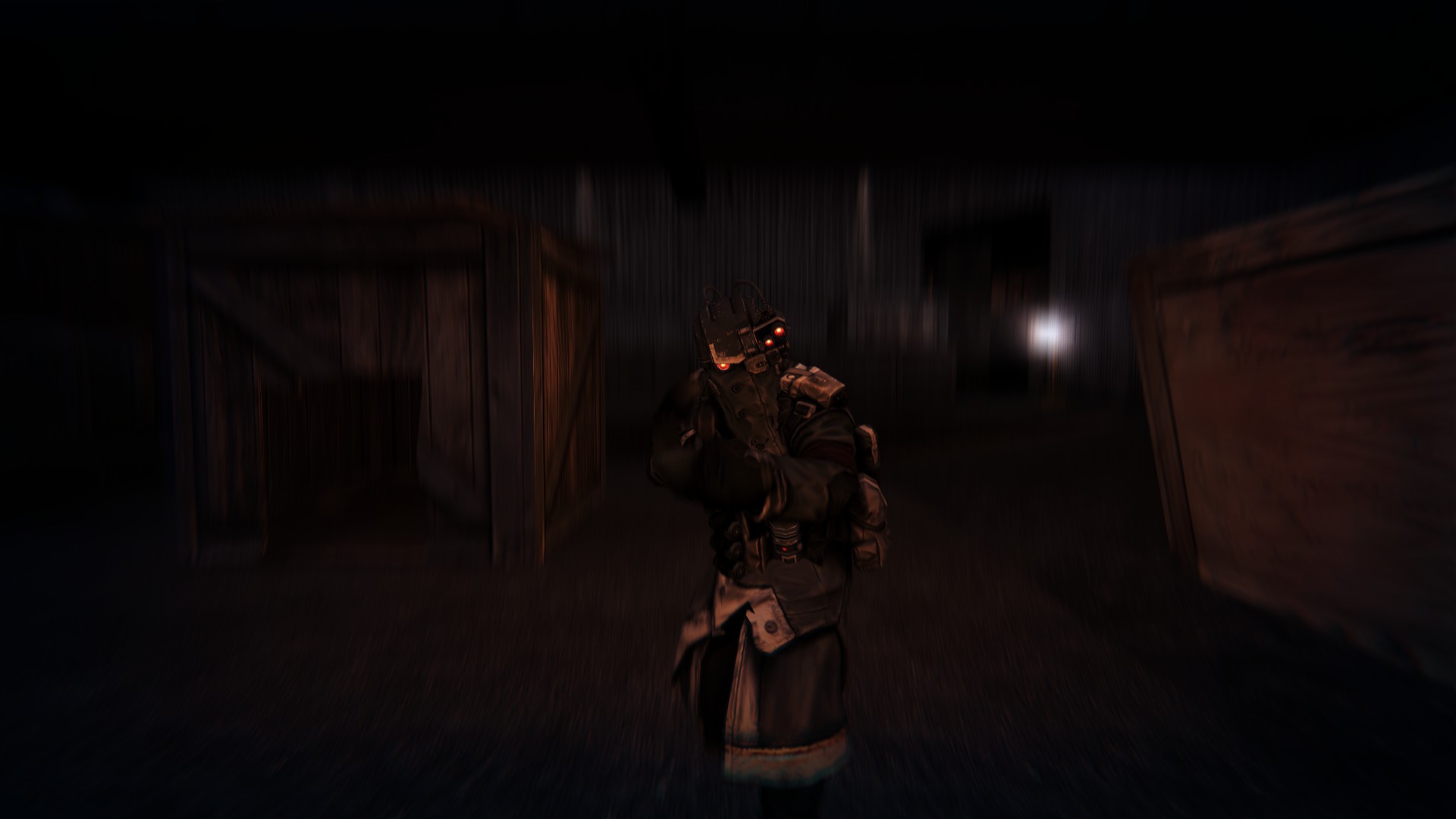 These are not the NPCs we will be using. These are hacked together SNPCs that use noding. The actual NPCs will have better pathfinding and response times, as they will be nextbots instead of SNPCs. You will also be moving slower, and will be using exclusively melee while fighting them more than likely. This is just a rough recording to show you kind of what the NPCs would look like in motion and in sound.
Music:
I am thinking of using some of the music I've made as a soundtrack, or making some other tracks for this gamemode.
Beware: This is loud as fuck and there are no volume sliders. Good job
sound
cloud!
After Words
So I'm trying to think of some more ideas for this gamemode, or flesh things out more. Keep in mind most of the maps will have underground home bases and the surface will be detailed, and things will be found around landmarks. Some maps I have in mind are edited versions of rp_apocalypse, and some other maps that insert underground areas into detailed surface maps. Post some thoughts, ideas, suggestions, and other things if you want, or let me know if this is something you would like to play on.[/color]