Your SteamID: STEAM_0:1:24752764
Your RP Name: Kyle Finnagan, Larhee
Date of incident: 7/17/17
Time of incident (HH:MM 24hr): not sure.
Time Zone:Pacific
Length of Ban: 90 days
Please explain exactly what happened from start to finish: I'll keep it simple here. Killed a guy for bringing an animal to town and it did damage to me. (Stilas was there to see) After killing him me and allies worked on securing area. I told people to leave the case. Cpl. Seb stood there and put Midwestern on so i was worried he would try something. He then walks VERY close to the cases with a shotgun and stays there. Naturally i shoot him. Later i kill a witness and then we are banned.
If you have any evidence to support this report, please give it here: Lots of evidence here that i will break down best i can. Also please note the rules are different at this time and not the current rules we have now. The rules were altered after our bans were dished out.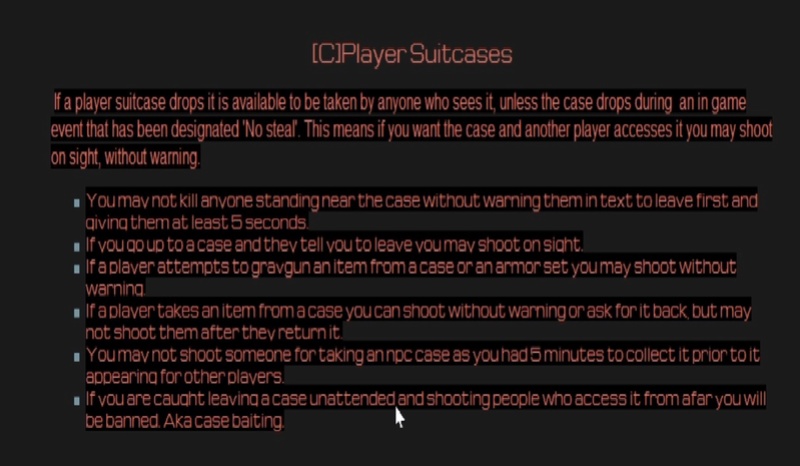 Incase that image doesn't work here is an Imgur link: http://imgur.com/gallery/vpA4O
Video of the incident: http://plays.tv/video/596d6c6a56f279d56f/evidence
Quick rundown of what is happening along with times:
Bag appears: 00:14
Run to nearest staff to confirm kill reason (since its in town): 00:22-28
Shots are fired so i move to observe and make sure it isn't threatening (notice bystanders react also): 00:22-28
5-6 people who are all allied surround me and the case, so i type telling them to move away (please note that i can be killed for this): 00:32-37
Message appears in chat: 00:37-48
I approach the case to take it but guy breaks NLR to enter the case: 00:37-41
Cpl sebastian armors up after the warning goes out: 00:40-48
Cpl seb approaches case after warning has gone out, he has a shotgun out and is near the case for 7 seconds: 00:48-55
Cpl seb backs away 00:55-57
Cpl seb is killed (witnesses include Lt.Richards and PFC west, along with allies adding to the threat): 1:02
By this time mike nespo had shown up (says "y'all do what i think you did?": 00:58
Thorn is told to immediately take the case: 01:13
I voice my worries about dieing: 01:17
Mike is confused (says hes "trying to figure out the situation"): 01:24
Checking witnesses: 01:26
Witness killed: 01:29
Thorn banned (no sit): 01:29
Mike says whole thing was dumb even though he doesn't come into picture till before Seb is killed and said he was confused himself: 02:33
Mike says i was waiting for people to go into the case even though i had previously told people to leave the case: 03:30
state my fear of death: 09:09
"mass murder": 08:55
I would like people to look at the lack of communication with the admins. The instant bans. The lengths i go to follow the new rules. The multiple threats I have to keep an eye on. And most of all not mentioning once that i was waiting for someone to enter the case. I would also like to note the reason this rule was removed is because of incidences like this. And that the rules were not specific until after my ban was issued.
Thanks for your time.